ANIMAL HEALING THERAPY
All animals benefit from healing. It helps in a wide range of physical, emotional and psychological conditions, working holistically on the whole animal, rather than on isolated symptoms. Healing is a natural therapy, promoting calm, peace and deep relaxation.
ANIMAL HEALING - ANIMAL COMMUNICATION - ANIMAL HEALING - ANIMAL ACUPRESSURE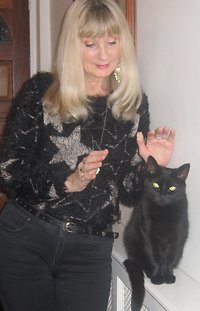 Healing supports all animals at every stage of their rehabilitation. Susie works very closely with vets which offer you and your trusted animal companion a complementary and professional service. Every living creature on this planet is part of the energy of this universe and through healing we can all benefit from the precious qualities of the universal energy.
Susie has a Diploma in Animal Healing and is a fully qualified Member of the Healing Animal Organisation. Susie has also studied Animal Communication with Liz Whiting and will be able to listen to your animals to determine their likes and dislikes and ascertain why certain behavioral problems have occurred. Susie would give an in-depth consultation first. Whereby you would be asked to fill out a form, then she will use animal husbandry skills and knowledge of environmental factors to help promote wellness and good health in the animal through Energy healing, which enhances bonds of love and trust between animal and carer.
Healing both the guardian and the animal at the same time is a wonderful way to relax and bond them both at the same time, leaving them with a wonderful feeling of well being. This works immediately, as you see them both letting go of any tensions or anxiety they both suffered previously. This leads to a whole new dimension to spiritual healing and is very beneficial for both the animal and the guardian.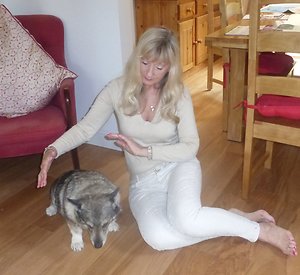 Susie also offers nutritional advice for animals, especially if the animal has food sensitivities or allergies to commercial food. On offer is a wide range of Natural food Animal remedy oils made from organic natural herbs and plants, which are very beneficial to the animal's welfare and provide additional nutrition to a healthy and balanced diet and are a perfect food supplement for all animals. The animal choose which oil is needed, after trying them all. Animals naturally self select which herb is beneficial to them.
Susie works mainly with dogs, cats and rabbits, hamsters, bats and birds. she does not work with dogs who have an aptitude towards violence, or whom are very aggressive. Although she will recommend an Animal Behaviorist for these problems
ANIMAL COMMUNICATION - ANIMAL HEALING - ANIMAL ACUPUNCTURE